Come Meet Our Audiologists at Hearing Assessment Center, LLC
At Hearing Assessment Center, LLC, we're committed to helping our patients restore their hearing and improve their quality of life. Armed with the latest hearing loss treatments, we'll help you get back to doing what you love. Meet our team of highly qualified audiologists and hearing experts.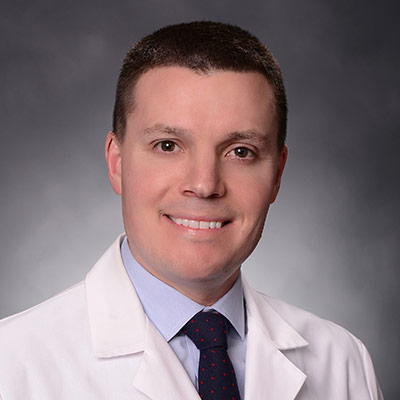 Rory Cernik, Au.D.
CEO/President, Doctor of Audiology
Dr. Rory D. Cernik is our Director of Clinical Services at the Hearing Assessment Center. He has received extensive training from some of the brightest minds in audiology.
Read more
Upon graduating audiology school, Dr. Cernik received his foundational training from Drs. Jim McDonald and Steve Seipp. "I was fortunate to be around Drs. McDonald and Seipp. I hope I can inspire young audiologist as they inspired me." – Dr. Cernik
Often, patients will drive quite a few hours to spend time with Dr. Cernik. His passion is to properly educate his patients and rehabilitate the cognitive aspects of their hearing loss. He also practices general audiology. Dr. Cernik is currently seeing patients in our Lutherville location.
Expertise and Experiences
Created Hearing Assessment Center, LLC in Maryland and Virginia, a multi-location, multi-audiologist private practice that SERVES patients in Baltimore and surrounding areas
His practice specializes in: the diagnosis and treatment of hearing loss, the brain's auditory processing capability, tinnitus origins, and assessment of your cognitive load (meaning how hard your brain works to separate speech from background noise)
Mentoring and training of doctoral students from local universities
Interviewed on WBAL and WCBM; weekly Baltimore Hears You segments
TV commercial, WBAL
Mentored by world renowned tinnitus researchers and continually is recognized nationally by his peers
Specializes in industrial audiology and worker's compensation claims. He has examined hundreds of local fireman and police officers
He has seen and impacted over 5000 lives in our community
Specializes in pain free cerumen (ear wax) removal and maintenance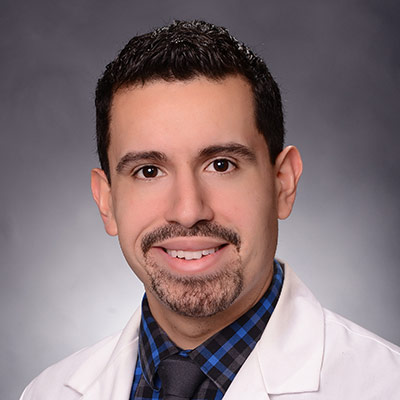 Donald A. Guillen, Au.D.
Doctor of Audiology
Dr. Donald A. Guillen currently serves as Director of Clinical Services. He received his clinical doctorate from Towson University and completed his clinical fellowship at the Hearing Assessment Center and has remained with the practice since 2015.
Read more
During his doctoral studies, he conducted extensive research where his primary focus was on investigating the impact of degraded listening conditions, such as background noise and reverberation, on cochlear filtering and auditory brainstem encoding in both normal and hearing-impaired individuals. His research inquiries were centered on uncovering the reasons behind the challenges faced by hearing-impaired individuals in understanding speech within noisy environments, a topic of paramount importance in his clinical practice
Dr. Guillen's profound understanding of this research has proven invaluable in his clinical practice, where he provides comprehensive treatment for individuals with hearing impairments. In addition to his clinical work, Dr. Guillen is deeply committed to raising awareness about the consequences of untreated hearing loss. He serves as a Community Ambassador, actively engaging with the community by giving talks and conducting hearing screenings at senior centers, local military retiree centers, hunting clubs, and various other local organizations. His involvement extends to assisting the international community through his contributions to the St. Clare Medical Outreach program, which aims to reduce healthcare disparities between the uninsured and the general population. Dr. Guillen has displayed a strong dedication to serving local veterans and has taken on a leadership role in this regard.
Furthermore, Dr. Guillen has played a pivotal role in shaping the future of audiology by taking on the responsibility of training students from many local and national universities. He actively guides and supports these students in their pursuit of audiological knowledge and expertise, sharing his wealth of experience and fostering their growth in the field.
In his spare time, Dr. Guillen enjoys playing the saxophone, traveling, and exploring new cultures and foods with his wife and two daughters.
Expertise and Experiences
Dr. Guillen possesses specialized expertise in cerumen (ear wax) removal, employing only non-abrasive methods to ensure a comfortable and pain-free experience for his patients.
He specializes in industrial audiology and worker's compensation claims, having worked closely with numerous firefighters and police officers in the area, delivering rehabilitative treatment to support their auditory health. He along with his team have served well over 500 local active and retired first responders.
Dr. Guillen's professional interests and areas of expertise encompass tinnitus evaluation, tinnitus retraining therapy, the diagnosis and treatment of hearing loss, cognitive/neural hearing deficits, healthy aging, forensic audiology, and patient education. His multifaceted knowledge allows him to provide comprehensive care tailored to each patient's unique needs.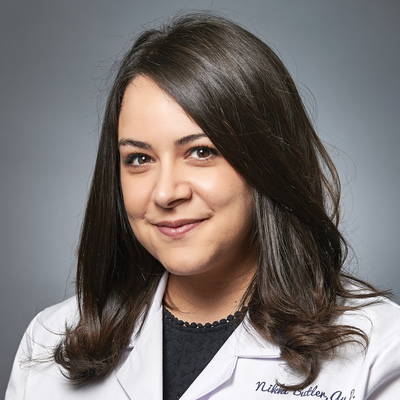 Nikki Butler, Au.D.
Doctor of Audiology
Dr. Nicolette "Nikki" Butler is the audiologist at our Warrenton, Virginia office. Dr. Nikki received her doctorate at East Tennessee State University.
Read more
She completed her residency at the Alaska Hearing and Tinnitus Center in Anchorage, Alaska. She has done extensive research in the area of auditory Working Memory. Working Memory is how the brain stores input from the ears. Her team focused on the relationship between speech comprehension and Working Memory. She has presented her research and some of the biggest events in the audiology world.
Dr. Nikki is certified by the American Board of Audiology. This certification demonstrates a commitment to professional standards, ethical practices, and continued professional development. Only 15% of audiologist have this distinction. She also holds a certificate in Tinnitus Management. Only a select few doctors have this qualification. People who suffer from tinnitus actively seek out Dr. Nikki's care; often times, patients will drive several hours for her treatment and care.

Dr. Nikki is the most passionate audiologist you will find. She has dedicated her life to helping those in her community who suffer from hearing loss and tinnitus. She understands how important hearing is to everyone's cognitive health and overall quality of life. Her main goal is to educate every single patient and, if necessary, treat these individuals with the highest level of care. Since moving to VA from Alaska, Dr. Nikki has developed a very strong reputation in the community.

When she is not serving her community, Dr. Nikki enjoys cooking, drinking copious amounts of coffee and exploring Virginia with her husband and two dogs.
Karson Marvel, Au.D.
Doctor of Audiology
Dr. Karson Marvel is one of the audiologists who practices in our
Lutherville office. She also sees the residents of Broadmead Retirement Community to provide superior and convenient hearing healthcare.
Read more
Dr. Marvel earned her doctorate at Towson University and completed her fourth year externship under Dr. Rory Cernik. She is American Board of Audiology Certified (ABAC) and a fellow of the American Academy of
Audiology (F-AAA).
Dr. Marvel is passionate about welcoming patients into the practice as she establishes relationships with patients. She accomplishes this by listening and educating patients about hearing health care, communication strategies, and appropriate treatment options. During Dr. Marvel's graduate studies, she completed extensive research on auditory processing abilities in adults. She eagerly assists patients to achieve improved communication with their loved ones.
When not in the office, Dr. Marvel enjoys spending time with her family and friends, hanging out with her dog, and traveling to the beach.
Casey Freed, Au.D.
Doctor of Audiology
Dr. Casey Freed is one of our audiologists who practices primarily in the Perry Hall office. Dr. Freed earned her Doctor of Audiology from Towson University.

Read more
During her graduate studies, she completed research investigating the localization ability of those with hearing loss using hearing aids and personal sound amplification products (PSAPs).
With a strong commitment to helping patients with hearing difficulties, Casey has dedicated her career to improving the lives of those she serves. Whether it is fitting patients with hearing devices, conducting comprehensive testing, performing cerumen management, or offering counseling and support, Casey approaches every case with empathy and expertise.
In addition to her professional accomplishments, Casey is a loving wife to her husband, Bryn,and enjoys spending time with her family. She was born and raised in Bel Air, attended high school at Notre Dame Prep in Towson, and attended Towson University for both her undergraduate and graduate degrees. Needless to say, she is a local to the area and cannot wait to raise her family here!
Outside of work, Casey is an avid tennis player, beach-lover, and loves to immerse herself in good book whenever she has free time.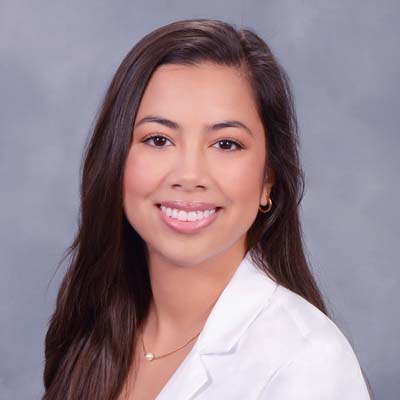 Sabrina Martinez
4th Year Resident
Sabrina, our esteemed 4th-year audiology resident, is currently collaborating closely with Dr. Donald Guillen.
Read more
Anticipating the conferral of her Clinical Doctorate in Audiology from Towson University in May 2024, she stands poised to make significant contributions to the field.
With a rich clinical background, Sabrina has adeptly worked with patients of diverse age groups, with a particular emphasis on adults and older adults. Her valuable experiences encompass assisting active duty personnel at Malcolm Grow Clinics at Joint Base Andrews and engaging in research protocols at the National Institute on Deafness and Other Communication Disorders (NIDCD). During her graduate studies, she delved into the intricate realm of subcortical processing in normal hearing individuals amidst background noise, recognizing its pivotal role in distinguishing target speech from ambient disturbances.
Sabrina's commitment lies in comprehensively guiding each patient through the intricacies of their hearing challenges. Her fervent dedication to educating individuals about their unique hearing conditions reflects her unwavering belief in empowering patients with knowledge about their auditory well-being.
Originally hailing from New York, Sabrina made the transition to Maryland for her graduate studies. Recently settling in Bel Air with her fiancé, Jeff, she has found joy in exploring the vibrant Bel Air Farmers Market during leisurely weekends and embarking on adventurous hikes across Harford County. On other occasions, she indulges in her passion for thrift shopping, crocheting, and knitting.
Sabrina's foremost priority remains fostering a nurturing environment in her new home in Harford County, alongside earnestly connecting with the community and building enduring relationships with our esteemed patients. She currently assists Dr. Guillen in seeing patients in both the Bel Air and Lutherville locations
Our Story and Mission
We take pride in helping our patients improve their quality of life.
Patient Testimonial
One of our loyal and devoted patients speaks about her experiences with hearing loss. See more reviews.